Fischer cane anatomical right white/marble
---
Standard length: 94 cm
Load capacity: 100 kg
Weight: 370 g
if(!document.getElementById('paypal-smart-payment-script')) { var script = document.createElement("script"); script.type = "module"; script.id = "paypal-smart-payment-script"; script.src = "https://cdn02.plentymarkets.com/nelb4lwvpm9a/plugin/38/paypal/js/smartPaymentScript.js"; script.setAttribute("data-client-id", "Aa75AvsRnx1OrlouICGs0y6TnJ2weorbG1kJxATb4PBP3rRFk2dzDSgbLqZKZLsJSHVRTDNNtykazwW3"); script.setAttribute("data-currency", "EUR"); script.setAttribute("data-client-token", "eyJicmFpbnRyZWUiOnsiYXV0aG9yaXphdGlvbkZpbmdlcnByaW50IjoiNTM5MmYxMjFmZjI5NzhiZWYzZWI2OWQxMjhhNDc2MzNiMjU3NzE1MmQ5NWRjNDEzNDY1MDI5MDUwZjBlZmYwZHxtZXJjaGFudF9pZD1yd3dua3FnMnhnNTZobTJuJnB1YmxpY19rZXk9ajJmYzJqcHhkZzZ2cDg0ZiZjcmVhdGVkX2F0PTIwMjMtMDQtMThUMDM6MzQ6NTQuMjQ3WiIsInZlcnNpb24iOiIzLXBheXBhbCJ9LCJwYXlwYWwiOnsiaWRUb2tlbiI6bnVsbCwiYWNjZXNzVG9rZW4iOiJBMjFBQU5icWx2ZHI0UnRtbmtGRXpYY1AyMkd6UTgxYXpTRkVsOUpvNk9XYXRnTnYxX3hKZ1V3Znk0bFlOcnVCN0FJcXVrT25UNGM3akFza09TS1pYUGhlNWtNd01EdlJRIn19"); script.setAttribute("data-append-trailing-slash", ""); script.setAttribute("data-locale", "en_GB"); document.body.appendChild(script); } else { var script = document.getElementById('paypal-smart-payment-script'); script.setAttribute("data-client-id", "Aa75AvsRnx1OrlouICGs0y6TnJ2weorbG1kJxATb4PBP3rRFk2dzDSgbLqZKZLsJSHVRTDNNtykazwW3"); script.setAttribute("data-currency", "EUR"); script.setAttribute("data-client-token", "eyJicmFpbnRyZWUiOnsiYXV0aG9yaXphdGlvbkZpbmdlcnByaW50IjoiNTM5MmYxMjFmZjI5NzhiZWYzZWI2OWQxMjhhNDc2MzNiMjU3NzE1MmQ5NWRjNDEzNDY1MDI5MDUwZjBlZmYwZHxtZXJjaGFudF9pZD1yd3dua3FnMnhnNTZobTJuJnB1YmxpY19rZXk9ajJmYzJqcHhkZzZ2cDg0ZiZjcmVhdGVkX2F0PTIwMjMtMDQtMThUMDM6MzQ6NTQuMjQ3WiIsInZlcnNpb24iOiIzLXBheXBhbCJ9LCJwYXlwYWwiOnsiaWRUb2tlbiI6bnVsbCwiYWNjZXNzVG9rZW4iOiJBMjFBQU5icWx2ZHI0UnRtbmtGRXpYY1AyMkd6UTgxYXpTRkVsOUpvNk9XYXRnTnYxX3hKZ1V3Znk0bFlOcnVCN0FJcXVrT25UNGM3akFza09TS1pYUGhlNWtNd01EdlJRIn19"); script.setAttribute("data-append-trailing-slash", ""); script.setAttribute("data-locale", "en_GB"); }
if(typeof renderPayPalButtons === 'function') { renderPayPalButtons('643e15c5b10c3', 'paypal', 'buynow', 'rect', 'silver'); } else { document.addEventListener('payPalScriptInitialized', () => { renderPayPalButtons('643e15c5b10c3', 'paypal', 'buynow', 'rect', 'silver'); }); }
The orthopaedic cane designed by Dr. Fischer. Casted of comfortable marbled acatate, with brass ring on a white polished beechwood shaft. Durchmesser 22 mm. 94cm, Rubberbuffer slimline.
German quality product manufactured by traditional manufacturers!
High-quality processed walking stick from German designer Stockmanufaktur. The comfortable anatomical grip on the original of Dr. Ing. Fischer with large handle, available for right and left-handers, made of light marbled, pleasant-to-touch acetate. Stable shaft painted in white satin finish. With brass ring and slim rubber buffer, length 94 cm. The stick is suitable for people up to 100 kg body weight. instructions
Scope of delivery: stick. Unless otherwise specified, the illustrated accessories are not included.
Length: 94 cm Handle shape: right-handed
This product complies with the Medical Device Directive 93/42 / EEC
Richtige Stocklänge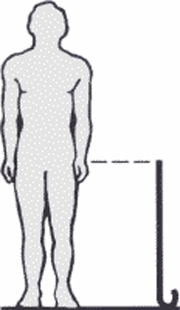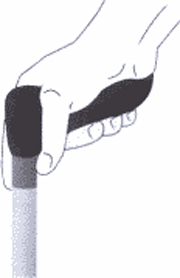 Hier zeigen wir Ihnen in unserem
Produktvideo
wie Sie die richtige Länge ausmessen und einen Holzstock leicht selbst kürzen können.
document.querySelector("form > input[data-mail='subject']").value = "Enquiry about article no.: " + vueApp.$store.getters.currentItemVariation.variation.number; document.addEventListener("onVariationChanged", function (e) { document.querySelector("form > input[data-mail='subject']").value = "Enquiry about article no.: " + vueApp.$store.getters.currentItemVariation.variation.number; });