Supporting umbrella BRAZIL, handle ebony/padouk/maple, canopy black fabric, length 92 cm
---
Standard length: 94 cm
Load capacity: 100 kg
Weight: 730 g
if(!document.getElementById('paypal-smart-payment-script')) { var script = document.createElement("script"); script.type = "module"; script.id = "paypal-smart-payment-script"; script.src = "https://cdn02.plentymarkets.com/nelb4lwvpm9a/plugin/38/paypal/js/smartPaymentScript.js"; script.setAttribute("data-client-id", "Aa75AvsRnx1OrlouICGs0y6TnJ2weorbG1kJxATb4PBP3rRFk2dzDSgbLqZKZLsJSHVRTDNNtykazwW3"); script.setAttribute("data-currency", "EUR"); script.setAttribute("data-client-token", "eyJicmFpbnRyZWUiOnsiYXV0aG9yaXphdGlvbkZpbmdlcnByaW50IjoiNDYwYTIzMzA2MWE4ZGRiYmUwZTFhNDFiNzI2ZjRjNzU4ZTg2MTQ1M2QwZDU0Mzk2NWU3OGEzZjdkNzkwYzNiOXxtZXJjaGFudF9pZD1yd3dua3FnMnhnNTZobTJuJnB1YmxpY19rZXk9ajJmYzJqcHhkZzZ2cDg0ZiZjcmVhdGVkX2F0PTIwMjMtMDMtMjRUMTk6NDM6NTguNjE5WiIsInZlcnNpb24iOiIzLXBheXBhbCJ9LCJwYXlwYWwiOnsiaWRUb2tlbiI6bnVsbCwiYWNjZXNzVG9rZW4iOiJBMjFBQU5aQ3FDQW1kQXk4Mjc1WEZaanNUV1ZBNGR2NnVtaTNFOGZoSkh5YWhPOHZIMkpVUU4yei1NdzFIc2hZbm1YcUlCNHVTamxsNC1YY1N4c0ZvZ1NDNVBweWROR1BRIn19"); script.setAttribute("data-append-trailing-slash", ""); script.setAttribute("data-locale", "en_GB"); document.body.appendChild(script); } else { var script = document.getElementById('paypal-smart-payment-script'); script.setAttribute("data-client-id", "Aa75AvsRnx1OrlouICGs0y6TnJ2weorbG1kJxATb4PBP3rRFk2dzDSgbLqZKZLsJSHVRTDNNtykazwW3"); script.setAttribute("data-currency", "EUR"); script.setAttribute("data-client-token", "eyJicmFpbnRyZWUiOnsiYXV0aG9yaXphdGlvbkZpbmdlcnByaW50IjoiNDYwYTIzMzA2MWE4ZGRiYmUwZTFhNDFiNzI2ZjRjNzU4ZTg2MTQ1M2QwZDU0Mzk2NWU3OGEzZjdkNzkwYzNiOXxtZXJjaGFudF9pZD1yd3dua3FnMnhnNTZobTJuJnB1YmxpY19rZXk9ajJmYzJqcHhkZzZ2cDg0ZiZjcmVhdGVkX2F0PTIwMjMtMDMtMjRUMTk6NDM6NTguNjE5WiIsInZlcnNpb24iOiIzLXBheXBhbCJ9LCJwYXlwYWwiOnsiaWRUb2tlbiI6bnVsbCwiYWNjZXNzVG9rZW4iOiJBMjFBQU5aQ3FDQW1kQXk4Mjc1WEZaanNUV1ZBNGR2NnVtaTNFOGZoSkh5YWhPOHZIMkpVUU4yei1NdzFIc2hZbm1YcUlCNHVTamxsNC1YY1N4c0ZvZ1NDNVBweWROR1BRIn19"); script.setAttribute("data-append-trailing-slash", ""); script.setAttribute("data-locale", "en_GB"); }
if(typeof renderPayPalButtons === 'function') { renderPayPalButtons('641e06c68a3a4', 'paypal', 'buynow', 'rect', 'silver'); } else { document.addEventListener('payPalScriptInitialized', () => { renderPayPalButtons('641e06c68a3a4', 'paypal', 'buynow', 'rect', 'silver'); }); }
A gentleman is characterised by his well-groomed, impeccable appearance, his caring and honesty. This very elegant umbrella from German production gives you that honourable attitude that defines a gentleman. The umbrella with classic black nylon upholstery has a lavishly crafted handle made of genuine ebony with inlays of precious padouk wood and finest maple wood in the middle, which is mounted on a stable frame with resilient 8 double struts. The umbrella has a matching black cover with Velcro fastening and a roof diameter of approx. 108 cm. The individual struts can be elegantly guided towards each other with a chrome bell when closing the umbrella s cover. Wear this cane umbrella to complete your appearance.
Elegant umbrella with handle inlaid in ebony/ padouk/maple.
Umbrella canopy in satin black cover fabric, diameter approx. 108 cm
Length approx. 92 cm, suitable for ladies and gentlemen up to 100 kg
Richtige Stocklänge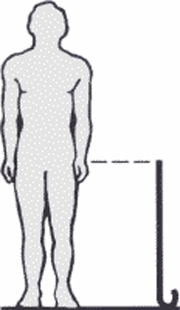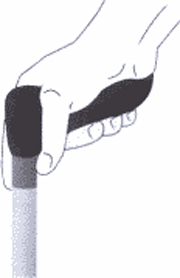 Hier zeigen wir Ihnen in unserem
Produktvideo
wie Sie die richtige Länge ausmessen und einen Holzstock leicht selbst kürzen können.
document.querySelector("form > input[data-mail='subject']").value = "Enquiry about article no.: " + vueApp.$store.getters.currentItemVariation.variation.number; document.addEventListener("onVariationChanged", function (e) { document.querySelector("form > input[data-mail='subject']").value = "Enquiry about article no.: " + vueApp.$store.getters.currentItemVariation.variation.number; });