Design walking stick ACTIONWOOD PECAN, ergonomic derby handle and stick made of stable multiplex, hand polished with carnauba wax, including rubber buffer
---
Standard length: 94 cm
Load capacity: 100 kg
Weight: 300 g
if(!document.getElementById('paypal-smart-payment-script')) { var script = document.createElement("script"); script.type = "module"; script.id = "paypal-smart-payment-script"; script.src = "https://cdn02.plentymarkets.com/nelb4lwvpm9a/plugin/38/paypal/js/smartPaymentScript.js"; script.setAttribute("data-client-id", "Aa75AvsRnx1OrlouICGs0y6TnJ2weorbG1kJxATb4PBP3rRFk2dzDSgbLqZKZLsJSHVRTDNNtykazwW3"); script.setAttribute("data-currency", "EUR"); script.setAttribute("data-client-token", "eyJicmFpbnRyZWUiOnsiYXV0aG9yaXphdGlvbkZpbmdlcnByaW50IjoiOWNlMzIwOGMyNjdlM2MwNjc3NGNmZDJkNTM4YjA0ZGY0NGQ2Zjk1MmYxNGNkMzdjMTg4OTE3ZDgzMTIyNjEyN3xtZXJjaGFudF9pZD1yd3dua3FnMnhnNTZobTJuJnB1YmxpY19rZXk9ajJmYzJqcHhkZzZ2cDg0ZiZjcmVhdGVkX2F0PTIwMjMtMTEtMTBUMTg6NTA6MzIuNTgyWiIsInZlcnNpb24iOiIzLXBheXBhbCJ9LCJwYXlwYWwiOnsiaWRUb2tlbiI6bnVsbCwiYWNjZXNzVG9rZW4iOiJBMjFBQU4wZ2NsZ3JmT1R3TEwxUXN1aDR5eFBmemNVTjJ3M1BrOXpFd190MHBEZ0lMcVNBQk9zOXV2V1hCN0FUbFJzVXNmb1duWVVKOG9BVlJFRXFEVWxObVh5WHVtM0hBIn19"); script.setAttribute("data-append-trailing-slash", ""); script.setAttribute("data-locale", "en_GB"); document.body.appendChild(script); } else { var script = document.getElementById('paypal-smart-payment-script'); script.setAttribute("data-client-id", "Aa75AvsRnx1OrlouICGs0y6TnJ2weorbG1kJxATb4PBP3rRFk2dzDSgbLqZKZLsJSHVRTDNNtykazwW3"); script.setAttribute("data-currency", "EUR"); script.setAttribute("data-client-token", "eyJicmFpbnRyZWUiOnsiYXV0aG9yaXphdGlvbkZpbmdlcnByaW50IjoiOWNlMzIwOGMyNjdlM2MwNjc3NGNmZDJkNTM4YjA0ZGY0NGQ2Zjk1MmYxNGNkMzdjMTg4OTE3ZDgzMTIyNjEyN3xtZXJjaGFudF9pZD1yd3dua3FnMnhnNTZobTJuJnB1YmxpY19rZXk9ajJmYzJqcHhkZzZ2cDg0ZiZjcmVhdGVkX2F0PTIwMjMtMTEtMTBUMTg6NTA6MzIuNTgyWiIsInZlcnNpb24iOiIzLXBheXBhbCJ9LCJwYXlwYWwiOnsiaWRUb2tlbiI6bnVsbCwiYWNjZXNzVG9rZW4iOiJBMjFBQU4wZ2NsZ3JmT1R3TEwxUXN1aDR5eFBmemNVTjJ3M1BrOXpFd190MHBEZ0lMcVNBQk9zOXV2V1hCN0FUbFJzVXNmb1duWVVKOG9BVlJFRXFEVWxObVh5WHVtM0hBIn19"); script.setAttribute("data-append-trailing-slash", ""); script.setAttribute("data-locale", "en_GB"); }
if (typeof paypal_plenty_sdk === 'undefined' || typeof renderPayPalButtons !== 'function') { document.addEventListener('payPalScriptInitialized', () => { renderPayPalButtons('654e82df23021', 'paypal', 'buynow', 'rect', 'silver'); }); } else { renderPayPalButtons('654e82df23021', 'paypal', 'buynow', 'rect', 'silver'); }
A noble gift from valuable materials! Stable 1.5mm thick birch veneers are dyed through a special process and then high-pressure pressure-bonded.
This creates a construction wood with a wonderful unique grain and high stability.
The ergonomically shaped derby handle with extra-wide hand rest is applied with a special dowel on the stick and glued high-strength.
At the end of the manufacturing process, the wood is polished by hand with fine Carnauba wax, a black-chromed jewelry ring and an elegant rubber buffer applied.
Very comfortable, ergonomic derby handle and pole made of high-quality multiplex wood.
Colored birch veneers (brown, beige, gray) in the special process pressure-connected
Hand-polished with noble Carnauba wax and black-chromed, solid jewelery ring
suitable for ladies and gentlemen up to 100 kg, total length approx. 94 cm, shortenable including rubber buffer
Every piece is unique!
Richtige Stocklänge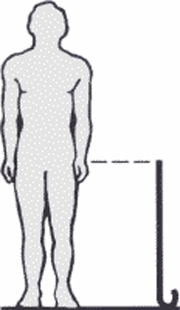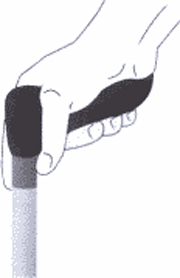 Hier zeigen wir Ihnen in unserem
Produktvideo
wie Sie die richtige Länge ausmessen und einen Holzstock leicht selbst kürzen können.
document.querySelector("form > input[data-mail='subject']").value = "Enquiry about article no.: " + vueApp.$store.getters.currentItemVariation.variation.number; document.addEventListener("onVariationChanged", function (e) { document.querySelector("form > input[data-mail='subject']").value = "Enquiry about article no.: " + vueApp.$store.getters.currentItemVariation.variation.number; });