Walking stick COUNTRY- VISTULA TREE, ergonomic derby handle, made of flamed beech wood, placed on a stick of bark-proof, waxed vistula tree wood, including rubber buffer, 94 cm
---
Standard length: 94 cm
Load capacity: 100 kg
Weight: 330 g
if(!document.getElementById('paypal-smart-payment-script')) { var script = document.createElement("script"); script.type = "module"; script.id = "paypal-smart-payment-script"; script.src = "https://cdn02.plentymarkets.com/nelb4lwvpm9a/plugin/38/paypal/js/smartPaymentScript.js"; script.setAttribute("data-client-id", "Aa75AvsRnx1OrlouICGs0y6TnJ2weorbG1kJxATb4PBP3rRFk2dzDSgbLqZKZLsJSHVRTDNNtykazwW3"); script.setAttribute("data-currency", "EUR"); script.setAttribute("data-client-token", "eyJicmFpbnRyZWUiOnsiYXV0aG9yaXphdGlvbkZpbmdlcnByaW50IjoiNTFmMzRkYmQyYTIxZTc1MjRmOGI3MTQ2NzE0YjIzZmM0OTY2NTgyOTIwNWFjYzdiYWQ1ZTczNTY4ZWI2YWE3M3xtZXJjaGFudF9pZD1yd3dua3FnMnhnNTZobTJuJnB1YmxpY19rZXk9ajJmYzJqcHhkZzZ2cDg0ZiZjcmVhdGVkX2F0PTIwMjMtMTItMDhUMDA6NTU6NDIuNDMxWiIsInZlcnNpb24iOiIzLXBheXBhbCJ9LCJwYXlwYWwiOnsiaWRUb2tlbiI6bnVsbCwiYWNjZXNzVG9rZW4iOiJBMjFBQU9MN3Q4THB0M2s5dzBCZHFZNFZkbXU4Y1pLR0daM0tUb2R4MmVhcmtVM2F6V2N6aVdhM090Wkg0OUdvYlkxaFNjdVFsQ1lKUDZKQS1yUmk3aE1jTjlHcXJWV3B3In19"); script.setAttribute("data-append-trailing-slash", ""); script.setAttribute("data-locale", "en_GB"); document.body.appendChild(script); } else { var script = document.getElementById('paypal-smart-payment-script'); script.setAttribute("data-client-id", "Aa75AvsRnx1OrlouICGs0y6TnJ2weorbG1kJxATb4PBP3rRFk2dzDSgbLqZKZLsJSHVRTDNNtykazwW3"); script.setAttribute("data-currency", "EUR"); script.setAttribute("data-client-token", "eyJicmFpbnRyZWUiOnsiYXV0aG9yaXphdGlvbkZpbmdlcnByaW50IjoiNTFmMzRkYmQyYTIxZTc1MjRmOGI3MTQ2NzE0YjIzZmM0OTY2NTgyOTIwNWFjYzdiYWQ1ZTczNTY4ZWI2YWE3M3xtZXJjaGFudF9pZD1yd3dua3FnMnhnNTZobTJuJnB1YmxpY19rZXk9ajJmYzJqcHhkZzZ2cDg0ZiZjcmVhdGVkX2F0PTIwMjMtMTItMDhUMDA6NTU6NDIuNDMxWiIsInZlcnNpb24iOiIzLXBheXBhbCJ9LCJwYXlwYWwiOnsiaWRUb2tlbiI6bnVsbCwiYWNjZXNzVG9rZW4iOiJBMjFBQU9MN3Q4THB0M2s5dzBCZHFZNFZkbXU4Y1pLR0daM0tUb2R4MmVhcmtVM2F6V2N6aVdhM090Wkg0OUdvYlkxaFNjdVFsQ1lKUDZKQS1yUmk3aE1jTjlHcXJWV3B3In19"); script.setAttribute("data-append-trailing-slash", ""); script.setAttribute("data-locale", "en_GB"); }
if (typeof paypal_plenty_sdk === 'undefined' || typeof renderPayPalButtons !== 'function') { document.addEventListener('payPalScriptInitialized', () => { renderPayPalButtons('6572706680280', 'paypal', 'buynow', 'rect', 'silver'); }); } else { renderPayPalButtons('6572706680280', 'paypal', 'buynow', 'rect', 'silver'); }
An ergonomic (wider hand rest) derby handle made of european, slightly flamed Beech wood.
The handle is set on a stick of bark-proof, naturally grown vistula tree-sour cherry (sour cherry) and decorated with a brass band.
The stick is very finely polished by hand and waxed several times. As a conclusion, a slim rubber buffer is attached, total length 94 cm.
Ergonomically shaped derby handle made of slightly flamed beech wood
Stick made from bark-proof vistula tree- sour cherry wood
including rubber buffer, total length 94 cm
Richtige Stocklänge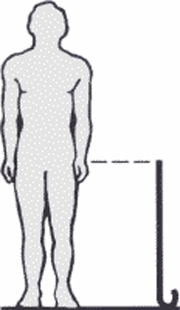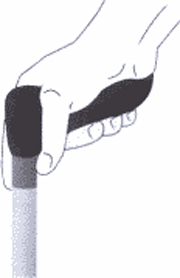 Hier zeigen wir Ihnen in unserem
Produktvideo
wie Sie die richtige Länge ausmessen und einen Holzstock leicht selbst kürzen können.
document.querySelector("form > input[data-mail='subject']").value = "Enquiry about article no.: " + vueApp.$store.getters.currentItemVariation.variation.number; document.addEventListener("onVariationChanged", function (e) { document.querySelector("form > input[data-mail='subject']").value = "Enquiry about article no.: " + vueApp.$store.getters.currentItemVariation.variation.number; });