SWEARZEIBE walking stick, elegant Derby handle made of burl birch root wood finish, stick beech wood satin black lacquered, 94 cm
---
Standard length: cm
Load capacity: kg
Weight: 300 g
if(!document.getElementById('paypal-smart-payment-script')) { var script = document.createElement("script"); script.type = "module"; script.id = "paypal-smart-payment-script"; script.src = "https://cdn02.plentymarkets.com/nelb4lwvpm9a/plugin/38/paypal/js/smartPaymentScript.js"; script.setAttribute("data-client-id", "Aa75AvsRnx1OrlouICGs0y6TnJ2weorbG1kJxATb4PBP3rRFk2dzDSgbLqZKZLsJSHVRTDNNtykazwW3"); script.setAttribute("data-currency", "EUR"); script.setAttribute("data-client-token", "eyJicmFpbnRyZWUiOnsiYXV0aG9yaXphdGlvbkZpbmdlcnByaW50IjoiN2E4YWUwZDhmODA1Y2RhMDIwYjIyNjJkOGE0NWQ4NWE3ZjRiMmY4M2ZkZDA0YzZiNmYyYWY4ZjYyNjU0ZDdlYnxtZXJjaGFudF9pZD1yd3dua3FnMnhnNTZobTJuJnB1YmxpY19rZXk9ajJmYzJqcHhkZzZ2cDg0ZiZjcmVhdGVkX2F0PTIwMjMtMTAtMzBUMjM6MzU6MzQuNjY3WiIsInZlcnNpb24iOiIzLXBheXBhbCJ9LCJwYXlwYWwiOnsiaWRUb2tlbiI6bnVsbCwiYWNjZXNzVG9rZW4iOiJBMjFBQU11c0duTHM2Q0dXQ09NdUpsV0lHa3U5MFZERjF0U2N4T0h4QzRpSDZKTWJCaC1RbUVRSDFIcEZKT1hUa1REM29fZTkyWmRFczZ1b0ZmQlpEUWNaRkdvbkhld21RIn19"); script.setAttribute("data-append-trailing-slash", ""); script.setAttribute("data-locale", "en_GB"); document.body.appendChild(script); } else { var script = document.getElementById('paypal-smart-payment-script'); script.setAttribute("data-client-id", "Aa75AvsRnx1OrlouICGs0y6TnJ2weorbG1kJxATb4PBP3rRFk2dzDSgbLqZKZLsJSHVRTDNNtykazwW3"); script.setAttribute("data-currency", "EUR"); script.setAttribute("data-client-token", "eyJicmFpbnRyZWUiOnsiYXV0aG9yaXphdGlvbkZpbmdlcnByaW50IjoiN2E4YWUwZDhmODA1Y2RhMDIwYjIyNjJkOGE0NWQ4NWE3ZjRiMmY4M2ZkZDA0YzZiNmYyYWY4ZjYyNjU0ZDdlYnxtZXJjaGFudF9pZD1yd3dua3FnMnhnNTZobTJuJnB1YmxpY19rZXk9ajJmYzJqcHhkZzZ2cDg0ZiZjcmVhdGVkX2F0PTIwMjMtMTAtMzBUMjM6MzU6MzQuNjY3WiIsInZlcnNpb24iOiIzLXBheXBhbCJ9LCJwYXlwYWwiOnsiaWRUb2tlbiI6bnVsbCwiYWNjZXNzVG9rZW4iOiJBMjFBQU11c0duTHM2Q0dXQ09NdUpsV0lHa3U5MFZERjF0U2N4T0h4QzRpSDZKTWJCaC1RbUVRSDFIcEZKT1hUa1REM29fZTkyWmRFczZ1b0ZmQlpEUWNaRkdvbkhld21RIn19"); script.setAttribute("data-append-trailing-slash", ""); script.setAttribute("data-locale", "en_GB"); }
if (typeof paypal_plenty_sdk === 'undefined' || typeof renderPayPalButtons !== 'function') { document.addEventListener('payPalScriptInitialized', () => { renderPayPalButtons('654045b91353a', 'paypal', 'buynow', 'rect', 'silver'); }); } else { renderPayPalButtons('654045b91353a', 'paypal', 'buynow', 'rect', 'silver'); }
This elaborately handcrafted walking stick offers a high degree of traditional cane-making art, but interpreted in a modern way. The elegantly curved and ergonomically shaped Derby handle made of exclusive burl birch with a hand-coloured root wood finish in brown is suitable for both sides of the hand and, thanks to its rounded nose, can also be quickly hung over the arm if required. This handle is mounted on a sturdy stick made of domestic beech, which is lacquered in satin black. Another small detail is the high-quality brass ring that decorates the shaft. A slim rubber buffer on the foot ensures better grip and thus supports a safe gait.
Walking stick SCHWARZEIBE powered by stockshop.de
handle made of burl birch root wood finish brown coloured
Cane made of domestic beech satin black lacquered
Length 94 cm, loadable up to 100 Kg
Richtige Stocklänge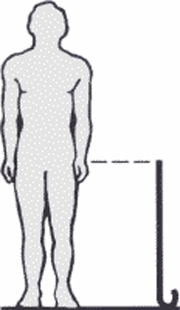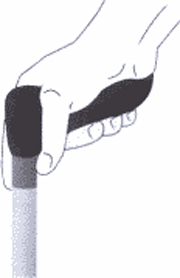 Hier zeigen wir Ihnen in unserem
Produktvideo
wie Sie die richtige Länge ausmessen und einen Holzstock leicht selbst kürzen können.
document.querySelector("form > input[data-mail='subject']").value = "Enquiry about article no.: " + vueApp.$store.getters.currentItemVariation.variation.number; document.addEventListener("onVariationChanged", function (e) { document.querySelector("form > input[data-mail='subject']").value = "Enquiry about article no.: " + vueApp.$store.getters.currentItemVariation.variation.number; });