Seat TRIOLED 85 seat, sturdy cowhide leather in saddlery quality, solid beechwood feet, high-quality plate tips, leather shoulder strap
---
Standard length: 85 cm
Load capacity: 130 kg
Weight: 3200 g
if(!document.getElementById('paypal-smart-payment-script')) { var script = document.createElement("script"); script.type = "module"; script.id = "paypal-smart-payment-script"; script.src = "https://cdn02.plentymarkets.com/nelb4lwvpm9a/plugin/38/paypal/js/smartPaymentScript.js"; script.setAttribute("data-client-id", "Aa75AvsRnx1OrlouICGs0y6TnJ2weorbG1kJxATb4PBP3rRFk2dzDSgbLqZKZLsJSHVRTDNNtykazwW3"); script.setAttribute("data-currency", "EUR"); script.setAttribute("data-client-token", "eyJicmFpbnRyZWUiOnsiYXV0aG9yaXphdGlvbkZpbmdlcnByaW50IjoiN2E4YWUwZDhmODA1Y2RhMDIwYjIyNjJkOGE0NWQ4NWE3ZjRiMmY4M2ZkZDA0YzZiNmYyYWY4ZjYyNjU0ZDdlYnxtZXJjaGFudF9pZD1yd3dua3FnMnhnNTZobTJuJnB1YmxpY19rZXk9ajJmYzJqcHhkZzZ2cDg0ZiZjcmVhdGVkX2F0PTIwMjMtMTAtMzBUMjM6MzU6MzQuNjY3WiIsInZlcnNpb24iOiIzLXBheXBhbCJ9LCJwYXlwYWwiOnsiaWRUb2tlbiI6bnVsbCwiYWNjZXNzVG9rZW4iOiJBMjFBQU11c0duTHM2Q0dXQ09NdUpsV0lHa3U5MFZERjF0U2N4T0h4QzRpSDZKTWJCaC1RbUVRSDFIcEZKT1hUa1REM29fZTkyWmRFczZ1b0ZmQlpEUWNaRkdvbkhld21RIn19"); script.setAttribute("data-append-trailing-slash", ""); script.setAttribute("data-locale", "en_GB"); document.body.appendChild(script); } else { var script = document.getElementById('paypal-smart-payment-script'); script.setAttribute("data-client-id", "Aa75AvsRnx1OrlouICGs0y6TnJ2weorbG1kJxATb4PBP3rRFk2dzDSgbLqZKZLsJSHVRTDNNtykazwW3"); script.setAttribute("data-currency", "EUR"); script.setAttribute("data-client-token", "eyJicmFpbnRyZWUiOnsiYXV0aG9yaXphdGlvbkZpbmdlcnByaW50IjoiN2E4YWUwZDhmODA1Y2RhMDIwYjIyNjJkOGE0NWQ4NWE3ZjRiMmY4M2ZkZDA0YzZiNmYyYWY4ZjYyNjU0ZDdlYnxtZXJjaGFudF9pZD1yd3dua3FnMnhnNTZobTJuJnB1YmxpY19rZXk9ajJmYzJqcHhkZzZ2cDg0ZiZjcmVhdGVkX2F0PTIwMjMtMTAtMzBUMjM6MzU6MzQuNjY3WiIsInZlcnNpb24iOiIzLXBheXBhbCJ9LCJwYXlwYWwiOnsiaWRUb2tlbiI6bnVsbCwiYWNjZXNzVG9rZW4iOiJBMjFBQU11c0duTHM2Q0dXQ09NdUpsV0lHa3U5MFZERjF0U2N4T0h4QzRpSDZKTWJCaC1RbUVRSDFIcEZKT1hUa1REM29fZTkyWmRFczZ1b0ZmQlpEUWNaRkdvbkhld21RIn19"); script.setAttribute("data-append-trailing-slash", ""); script.setAttribute("data-locale", "en_GB"); }
if (typeof paypal_plenty_sdk === 'undefined' || typeof renderPayPalButtons !== 'function') { document.addEventListener('payPalScriptInitialized', () => { renderPayPalButtons('6540459d9dd28', 'paypal', 'buynow', 'rect', 'silver'); }); } else { renderPayPalButtons('6540459d9dd28', 'paypal', 'buynow', 'rect', 'silver'); }
A very stable tripod seat with a seat made of medium brown cowhide leather in saddler quality, securely screwed to the solid wood legs.
The three legs made of solid, slightly flamed and multi-satin lacquered beech wood can be folded together using the robust screw connection.
A practical cowhide strap is attached to a seat leg for easy transport.
At the end, three plate tips made of chromed steel are attached.
The seat height is approx. 85 cm and when folded the seat is approx. 90 cm long.
Saddler quality cowhide leather seat
Solid legs made of flamed and satin-lacquered beech wood
Stable screw connection for folding, max. 130 kg, weight approx.2.8 kg
Chromed steel plate tips for a secure hold
Seat height 85 cm length folded 90 cm Made in Germany
Richtige Stocklänge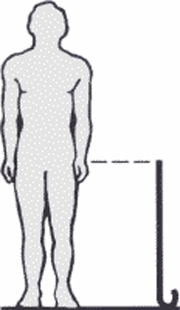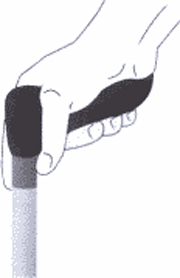 Hier zeigen wir Ihnen in unserem
Produktvideo
wie Sie die richtige Länge ausmessen und einen Holzstock leicht selbst kürzen können.
document.querySelector("form > input[data-mail='subject']").value = "Enquiry about article no.: " + vueApp.$store.getters.currentItemVariation.variation.number; document.addEventListener("onVariationChanged", function (e) { document.querySelector("form > input[data-mail='subject']").value = "Enquiry about article no.: " + vueApp.$store.getters.currentItemVariation.variation.number; });