Design folding stick BOSTON Relax handle, soft grip coating, stick light metal black, foldable with deluxe connection, height adjustable, rubber buffer
---
Standard length: cm
Adjustable: 85 - 95 cm
Load capacity: 110 kg
Weight: 376 g
if(!document.getElementById('paypal-smart-payment-script')) { var script = document.createElement("script"); script.type = "module"; script.id = "paypal-smart-payment-script"; script.src = "https://cdn02.plentymarkets.com/nelb4lwvpm9a/plugin/38/paypal/js/smartPaymentScript.js"; script.setAttribute("data-client-id", "Aa75AvsRnx1OrlouICGs0y6TnJ2weorbG1kJxATb4PBP3rRFk2dzDSgbLqZKZLsJSHVRTDNNtykazwW3"); script.setAttribute("data-currency", "EUR"); script.setAttribute("data-client-token", "eyJicmFpbnRyZWUiOnsiYXV0aG9yaXphdGlvbkZpbmdlcnByaW50IjoiNjk1ZDQ5YTQzMDE3YzZiMGZmYzU0ZTAxYWU5ODA1OWUyZjRmOTE3N2NiN2YxZTQ3NjU0NTBmZDliMWE1MTU0OHxtZXJjaGFudF9pZD1yd3dua3FnMnhnNTZobTJuJnB1YmxpY19rZXk9ajJmYzJqcHhkZzZ2cDg0ZiZjcmVhdGVkX2F0PTIwMjMtMTEtMDVUMjM6MTY6NDIuMjg1WiIsInZlcnNpb24iOiIzLXBheXBhbCJ9LCJwYXlwYWwiOnsiaWRUb2tlbiI6bnVsbCwiYWNjZXNzVG9rZW4iOiJBMjFBQU5tRmJYa3FlYVVWd1dMTHBfUmdEMkY1VVZwcktzSXk1UnRmRnIxdGRjVU1tcjRkY1E2MEN4YmxyR1d0R3NWMTN1UDhuamRZWWxHVkRiQjItR05kNXJVcHptaklRIn19"); script.setAttribute("data-append-trailing-slash", ""); script.setAttribute("data-locale", "en_GB"); document.body.appendChild(script); } else { var script = document.getElementById('paypal-smart-payment-script'); script.setAttribute("data-client-id", "Aa75AvsRnx1OrlouICGs0y6TnJ2weorbG1kJxATb4PBP3rRFk2dzDSgbLqZKZLsJSHVRTDNNtykazwW3"); script.setAttribute("data-currency", "EUR"); script.setAttribute("data-client-token", "eyJicmFpbnRyZWUiOnsiYXV0aG9yaXphdGlvbkZpbmdlcnByaW50IjoiNjk1ZDQ5YTQzMDE3YzZiMGZmYzU0ZTAxYWU5ODA1OWUyZjRmOTE3N2NiN2YxZTQ3NjU0NTBmZDliMWE1MTU0OHxtZXJjaGFudF9pZD1yd3dua3FnMnhnNTZobTJuJnB1YmxpY19rZXk9ajJmYzJqcHhkZzZ2cDg0ZiZjcmVhdGVkX2F0PTIwMjMtMTEtMDVUMjM6MTY6NDIuMjg1WiIsInZlcnNpb24iOiIzLXBheXBhbCJ9LCJwYXlwYWwiOnsiaWRUb2tlbiI6bnVsbCwiYWNjZXNzVG9rZW4iOiJBMjFBQU5tRmJYa3FlYVVWd1dMTHBfUmdEMkY1VVZwcktzSXk1UnRmRnIxdGRjVU1tcjRkY1E2MEN4YmxyR1d0R3NWMTN1UDhuamRZWWxHVkRiQjItR05kNXJVcHptaklRIn19"); script.setAttribute("data-append-trailing-slash", ""); script.setAttribute("data-locale", "en_GB"); }
if (typeof paypal_plenty_sdk === 'undefined' || typeof renderPayPalButtons !== 'function') { document.addEventListener('payPalScriptInitialized', () => { renderPayPalButtons('6548250de2d11', 'paypal', 'buynow', 'rect', 'silver'); }); } else { renderPayPalButtons('6548250de2d11', 'paypal', 'buynow', 'rect', 'silver'); }
Design folding stick BOSTON made of sturdy aluminium black with satin finish. Anatomically shaped relax grip made of high-strength plastic with non-slip soft grip coating. 4-piece foldable, pack size approx. 32 cm, height adjustable (approx.88-98cm), with special rubber buffer, including retaining clip and transparent case (spare rubber buffer art. 1946-S).
Design folding stick with anatomically shaped relax handle made of sturdy plastic with non-slip coating.
Cane made of light aluminium, black with satin finish, 4-piece foldable, packing size only approx. 32cm
5-fold height adjustable from approx. 88cm - 98cm, suitable for ladies and gentlemen up to approx. 120Kg
Secure, non-slip special rubber buffer with metal insert, incl. retaining clip and clear case
Please select the carrying side of the anatomical handle, powered by Stockshop.de
Richtige Stocklänge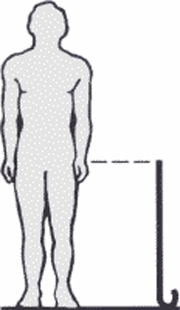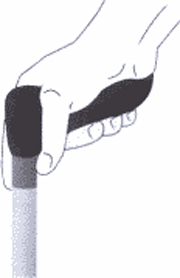 Hier zeigen wir Ihnen in unserem
Produktvideo
wie Sie die richtige Länge ausmessen und einen Holzstock leicht selbst kürzen können.
document.querySelector("form > input[data-mail='subject']").value = "Enquiry about article no.: " + vueApp.$store.getters.currentItemVariation.variation.number; document.addEventListener("onVariationChanged", function (e) { document.querySelector("form > input[data-mail='subject']").value = "Enquiry about article no.: " + vueApp.$store.getters.currentItemVariation.variation.number; });