Silver stick GALA, handcrafted crook handle 925/1000 sterling silver, stick fine ebony, manufacture work
---
Standard length: 100 cm
Load capacity: 100 kg
Weight: 400 g
if(!document.getElementById('paypal-smart-payment-script')) { var script = document.createElement("script"); script.type = "module"; script.id = "paypal-smart-payment-script"; script.src = "https://cdn02.plentymarkets.com/nelb4lwvpm9a/plugin/38/paypal/js/smartPaymentScript.js"; script.setAttribute("data-client-id", "Aa75AvsRnx1OrlouICGs0y6TnJ2weorbG1kJxATb4PBP3rRFk2dzDSgbLqZKZLsJSHVRTDNNtykazwW3"); script.setAttribute("data-currency", "EUR"); script.setAttribute("data-client-token", "eyJicmFpbnRyZWUiOnsiYXV0aG9yaXphdGlvbkZpbmdlcnByaW50IjoiZTg4ZDM5ODcxZTM5ZjRjMDVjM2VjYWI2NzY4MWU3MTNhZTBmYWViOWIzMWZlZWE4ZmU2ODcyOTU5MDE5YzE5YnxtZXJjaGFudF9pZD1yd3dua3FnMnhnNTZobTJuJnB1YmxpY19rZXk9ajJmYzJqcHhkZzZ2cDg0ZiZjcmVhdGVkX2F0PTIwMjMtMTAtMjZUMTU6MDU6MTAuMjA2WiIsInZlcnNpb24iOiIzLXBheXBhbCJ9LCJwYXlwYWwiOnsiaWRUb2tlbiI6bnVsbCwiYWNjZXNzVG9rZW4iOiJBMjFBQU1lWFRBNXBRR2xfU3Baa19wTnBzeXpoVVZlV2p6REZOd0lUMmdKN0Q3YjRJTDFMcElMUkZ4eTE4aWFSRTVRdEY4NmxBWm83Wl9NdDFWRExHcjZFemtfalltVkZBIn19"); script.setAttribute("data-append-trailing-slash", ""); script.setAttribute("data-locale", "en_GB"); document.body.appendChild(script); } else { var script = document.getElementById('paypal-smart-payment-script'); script.setAttribute("data-client-id", "Aa75AvsRnx1OrlouICGs0y6TnJ2weorbG1kJxATb4PBP3rRFk2dzDSgbLqZKZLsJSHVRTDNNtykazwW3"); script.setAttribute("data-currency", "EUR"); script.setAttribute("data-client-token", "eyJicmFpbnRyZWUiOnsiYXV0aG9yaXphdGlvbkZpbmdlcnByaW50IjoiZTg4ZDM5ODcxZTM5ZjRjMDVjM2VjYWI2NzY4MWU3MTNhZTBmYWViOWIzMWZlZWE4ZmU2ODcyOTU5MDE5YzE5YnxtZXJjaGFudF9pZD1yd3dua3FnMnhnNTZobTJuJnB1YmxpY19rZXk9ajJmYzJqcHhkZzZ2cDg0ZiZjcmVhdGVkX2F0PTIwMjMtMTAtMjZUMTU6MDU6MTAuMjA2WiIsInZlcnNpb24iOiIzLXBheXBhbCJ9LCJwYXlwYWwiOnsiaWRUb2tlbiI6bnVsbCwiYWNjZXNzVG9rZW4iOiJBMjFBQU1lWFRBNXBRR2xfU3Baa19wTnBzeXpoVVZlV2p6REZOd0lUMmdKN0Q3YjRJTDFMcElMUkZ4eTE4aWFSRTVRdEY4NmxBWm83Wl9NdDFWRExHcjZFemtfalltVkZBIn19"); script.setAttribute("data-append-trailing-slash", ""); script.setAttribute("data-locale", "en_GB"); }
if (typeof paypal_plenty_sdk === 'undefined' || typeof renderPayPalButtons !== 'function') { document.addEventListener('payPalScriptInitialized', () => { renderPayPalButtons('653a8a1e0d808', 'paypal', 'buynow', 'rect', 'silver'); }); } else { renderPayPalButtons('653a8a1e0d808', 'paypal', 'buynow', 'rect', 'silver'); }
This elegant stick ensures a unique appearance at a special gala or any other exclusive evening event.
The elegantly shaped crook handle made of 925/1000 sterling silver is handcrafted in a German silver manufacturer. The handle has a slightly angular shape and the tip at the end of the round hook has a great curve and with attention to detail, a real gem is created during production. The handle is placed on a section of dark ebony, which ends with a slim rubber buffer.
This stick gives you support and a great look.
Exclusive and very high quality silver stick, real 925 sterling silver
crook handle made of real silver, stick made of fine ebony
Length 96 cm (can be shortened), loadable up to 100 kg body weight
Safe, non-slip rubber buffer made of special rubber
The right stick for a unique appearance at a gala or an exclusive evening event
Richtige Stocklänge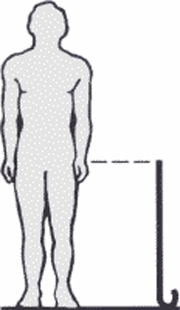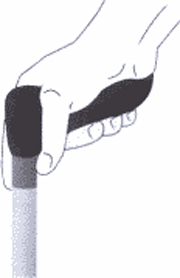 Hier zeigen wir Ihnen in unserem
Produktvideo
wie Sie die richtige Länge ausmessen und einen Holzstock leicht selbst kürzen können.
document.querySelector("form > input[data-mail='subject']").value = "Enquiry about article no.: " + vueApp.$store.getters.currentItemVariation.variation.number; document.addEventListener("onVariationChanged", function (e) { document.querySelector("form > input[data-mail='subject']").value = "Enquiry about article no.: " + vueApp.$store.getters.currentItemVariation.variation.number; });