Walking stick FLORENZ , silverplated Fritz-grip, black beech wood
---
Standard length: 100 cm
Load capacity: 100 kg
Weight: 311 g
if(!document.getElementById('paypal-smart-payment-script')) { var script = document.createElement("script"); script.type = "module"; script.id = "paypal-smart-payment-script"; script.src = "https://cdn02.plentymarkets.com/nelb4lwvpm9a/plugin/38/paypal/js/smartPaymentScript.js"; script.setAttribute("data-client-id", "Aa75AvsRnx1OrlouICGs0y6TnJ2weorbG1kJxATb4PBP3rRFk2dzDSgbLqZKZLsJSHVRTDNNtykazwW3"); script.setAttribute("data-currency", "EUR"); script.setAttribute("data-client-token", "eyJicmFpbnRyZWUiOnsiYXV0aG9yaXphdGlvbkZpbmdlcnByaW50IjoiNTM5MmYxMjFmZjI5NzhiZWYzZWI2OWQxMjhhNDc2MzNiMjU3NzE1MmQ5NWRjNDEzNDY1MDI5MDUwZjBlZmYwZHxtZXJjaGFudF9pZD1yd3dua3FnMnhnNTZobTJuJnB1YmxpY19rZXk9ajJmYzJqcHhkZzZ2cDg0ZiZjcmVhdGVkX2F0PTIwMjMtMDQtMThUMDM6MzQ6NTQuMjQ3WiIsInZlcnNpb24iOiIzLXBheXBhbCJ9LCJwYXlwYWwiOnsiaWRUb2tlbiI6bnVsbCwiYWNjZXNzVG9rZW4iOiJBMjFBQU5icWx2ZHI0UnRtbmtGRXpYY1AyMkd6UTgxYXpTRkVsOUpvNk9XYXRnTnYxX3hKZ1V3Znk0bFlOcnVCN0FJcXVrT25UNGM3akFza09TS1pYUGhlNWtNd01EdlJRIn19"); script.setAttribute("data-append-trailing-slash", ""); script.setAttribute("data-locale", "en_GB"); document.body.appendChild(script); } else { var script = document.getElementById('paypal-smart-payment-script'); script.setAttribute("data-client-id", "Aa75AvsRnx1OrlouICGs0y6TnJ2weorbG1kJxATb4PBP3rRFk2dzDSgbLqZKZLsJSHVRTDNNtykazwW3"); script.setAttribute("data-currency", "EUR"); script.setAttribute("data-client-token", "eyJicmFpbnRyZWUiOnsiYXV0aG9yaXphdGlvbkZpbmdlcnByaW50IjoiNTM5MmYxMjFmZjI5NzhiZWYzZWI2OWQxMjhhNDc2MzNiMjU3NzE1MmQ5NWRjNDEzNDY1MDI5MDUwZjBlZmYwZHxtZXJjaGFudF9pZD1yd3dua3FnMnhnNTZobTJuJnB1YmxpY19rZXk9ajJmYzJqcHhkZzZ2cDg0ZiZjcmVhdGVkX2F0PTIwMjMtMDQtMThUMDM6MzQ6NTQuMjQ3WiIsInZlcnNpb24iOiIzLXBheXBhbCJ9LCJwYXlwYWwiOnsiaWRUb2tlbiI6bnVsbCwiYWNjZXNzVG9rZW4iOiJBMjFBQU5icWx2ZHI0UnRtbmtGRXpYY1AyMkd6UTgxYXpTRkVsOUpvNk9XYXRnTnYxX3hKZ1V3Znk0bFlOcnVCN0FJcXVrT25UNGM3akFza09TS1pYUGhlNWtNd01EdlJRIn19"); script.setAttribute("data-append-trailing-slash", ""); script.setAttribute("data-locale", "en_GB"); }
if(typeof renderPayPalButtons === 'function') { renderPayPalButtons('643e15c14aee5', 'paypal', 'buynow', 'rect', 'silver'); } else { document.addEventListener('payPalScriptInitialized', () => { renderPayPalButtons('643e15c14aee5', 'paypal', 'buynow', 'rect', 'silver'); }); }
The walking stick FLORENZ CONGO combines the best qualities of noble materials and performs a combination of classical origins and modern silver-plated accessories. The stick is made of flamed Congo wood, which is not peeled and the walking stick thus retains its natural surface texture. This preserves the naturalness and every stick becomes unique. The brown coloration, which particularly accentuates the grain, gives the shot a very plastic effect. The finely silvered Derby grip nestles perfectly on the hand. Due to the fine decorations on the long sides of the handle, the entire cane gains in sophistication. With this Accesoire you show an eye for detail and will always be well on the way!
Very comfortable, finely silvered and chased Derby handle
Suitable for ladies and gentlemen
Stick out of Congo wood, natural surface texture
Stable and high quality walking stick from spanish manufactory
Length: 100 cm (shortenable), loadable up to 100 kg body weight
Richtige Stocklänge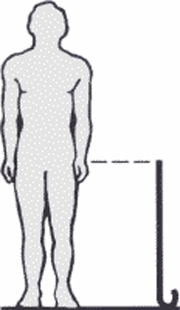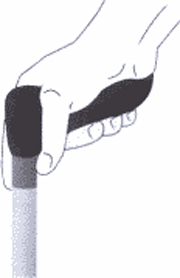 Hier zeigen wir Ihnen in unserem
Produktvideo
wie Sie die richtige Länge ausmessen und einen Holzstock leicht selbst kürzen können.
document.querySelector("form > input[data-mail='subject']").value = "Enquiry about article no.: " + vueApp.$store.getters.currentItemVariation.variation.number; document.addEventListener("onVariationChanged", function (e) { document.querySelector("form > input[data-mail='subject']").value = "Enquiry about article no.: " + vueApp.$store.getters.currentItemVariation.variation.number; });